HIGHLY FAVOURED – MICHAEL AYEKOO SMITH ft JOE METTLE [ Audio + Lyrics ]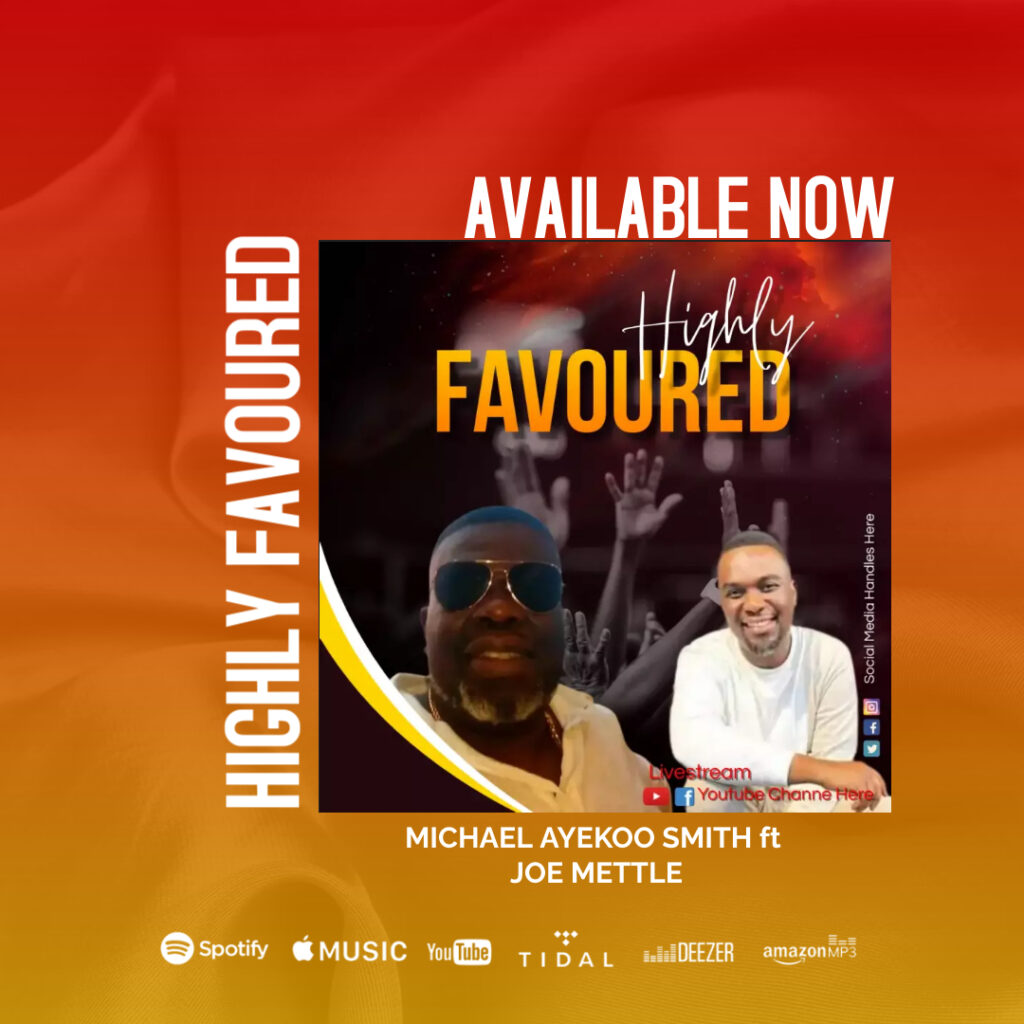 "HIGHLY FAVOURED'" is a song of gratitude to our creator filled with worship, who has adopted us as his own. It is a great privilege to be favored by God.
' HIGHLY FAVOURED' is also recognized to be one of top worship song in 2023. Listen and Download below
Highly Favoured Michael Ayekoo Smith Ft Joe Mettle official lyrics
Intro.
Michael Ayekoo Smith Joe Mettle
I believe am blessed and highly Favoured
By the Lord Almighty
VERSE 1
His Holy name His Holy ghost i believe in his miracle and his mercies shall follow me, I blessed the Lord for all my life am blessed and Highly Favoured am believing and protected by his blood.ooo oh Lord as i am ah ah ooh
CHANGE
Day by Day he shows me Mercy
Night by Night he reveals to redeem
He makes a way in the storm crowns my year with his Favour
CHORUS
I believe it i recieve it and i have it forever more (4x)
Everything that is mine i claim it. ohohoahh
Give thanks to the Lord for his good and his love endures forever
The Lord is my strength and my defense he has become my salvation Shouts of joy and Victory resounds in the tents of the righteous the Lord's right hand has done mighty things i will not die but live and proclaim what the Lord has done the Lord has done it this very day let us rejoice and be glad in it
Am a child of the kingdom blessed and Highly Favoured
He that lives in me is greater than that that's lives in the world no weapon formed against me shall prosper a thousand shall fall on my left hand side
Ten thousand Joe at your right hand. But with my eyes i see the reward of the wicked i am blessed beyond curse hallelujah.
I believe it i recieve it i claim it it's mine
Come on Joe Mettle sing for me
CHORUS
I believe it i recieve it i claim it it's mine
I believe it i recieve it i claim it (2x)
Everything that is mine i claim it in Jesus name yeah!
                              About Michael Ayekoo Smith
MICHAEL AYEKOO SMITH, a renowned south africa Gospel minister, songwriter and an inspiration to many just released an amazing Gospel Hit  titled 'HIGHLY FAVOURED' and Beside him is God's own anointed minister JOE METTLE.
MICHAEL AYEKOO SMITH is a popular South African, gospel singer, songwriter, recording artist and Broadcast Journalist, well known for his Gospel songs. Michael Ayekoo Smith was  Born in 1972, Accra Ghana also known by friends and family as a loving husband and a father of 6 beautiful children  his also known for his passion for God as a Christian. our own God's ICON Michael Ayekoo Smith has won interesting awards such as ( Ecrag Award 1998 Hilife Discovery Song of the year Ewuraba, Best Hilife Presenter Rtv 1998, Best Hilife presenter RTV Magazine 1997 etc..) and release related Gospel songs (Gospel Songs ,Songs of Praise, God's Move etc..)