Music Audition Season 2 [ Event ]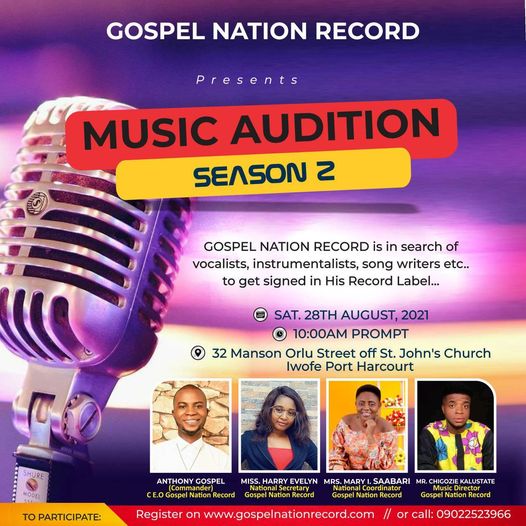 Gospel Nation Record presents Music Audition Season 2 in collaboration with Immortal Voice.
Gospel Nation Record is looking for Gospel Music Artists, Vocalists, and Instrumentalists to sign under our music label. We have the vision of Kingdom Establishment of Earth and Gospel Expansion.
Do you have the voice?
Are you a natural talent? Are you a believer in yourself? Are you looking for a platform to help you reach your goals? Do you need a platform to raise funds?
Sat. Date: Sat., 28th August 2021
Time: 10am
Location: 32 Manson Orlu Street, St. John's Church Iwofe Port Harcourt Nigeria
REGISTRATION IS ONGOING NOW!!!
TO REGISTER, SEND YOUR NAME & LOCATION WITH A #500 PAYMENT FOR THE APPLICANT FORM
09022523966
08066775387
ACCT NAME ANTHONY GOSPEL
ACCT NUMBER: 2114302658
UBA…
Send your proof of payment to the WhatsApp numbers. You will receive your entry code along with your application form.